Manga Deauville Festival! 1St Edition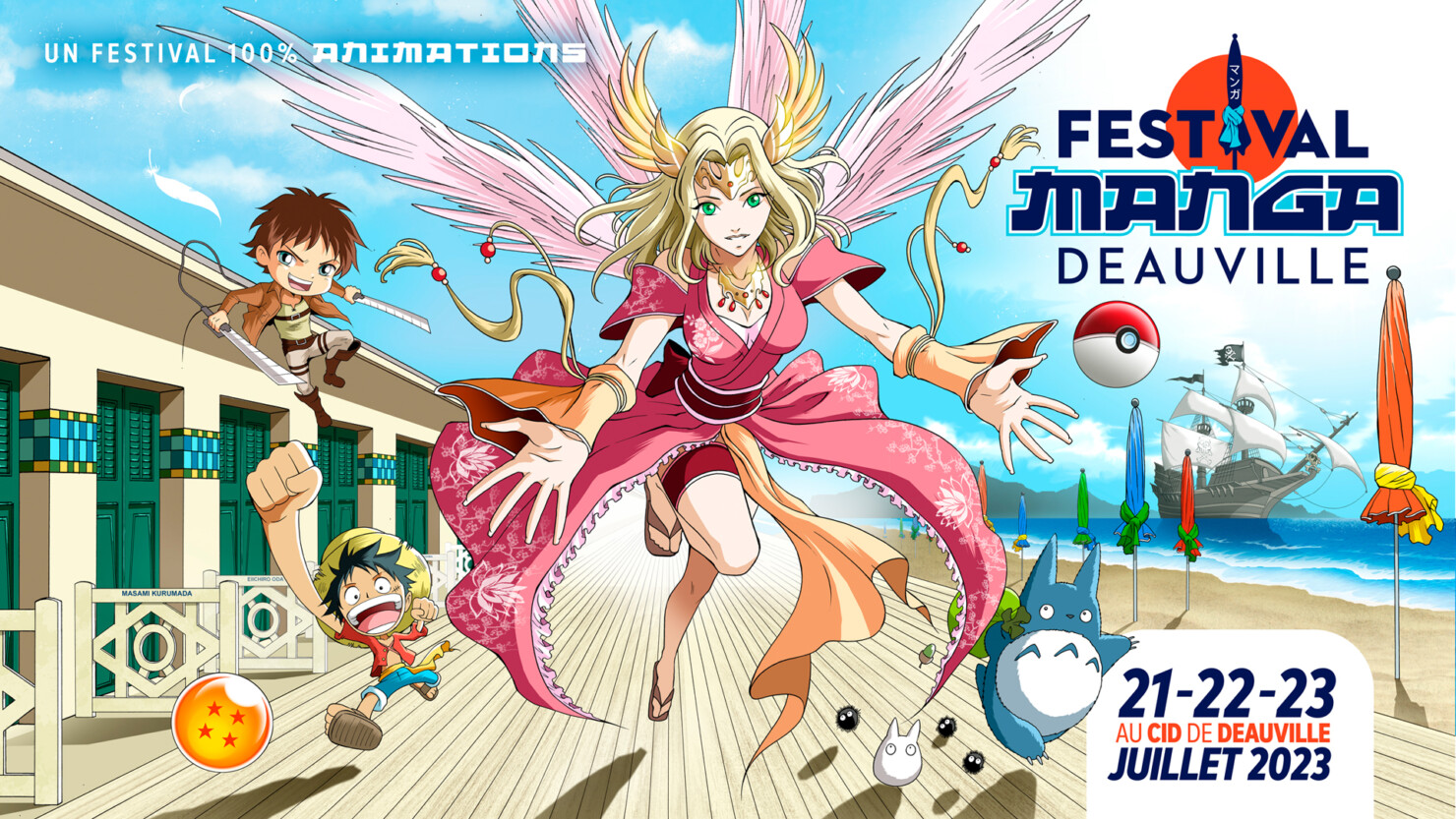 First edition of the Deauville Manga Festival
Don't miss the Fest­iv­al Manga de Deau­ville, the must-attend event for fans of manga and Japan­ese pop culture!
The Deau­ville Manga Fest­iv­al is a major event in the world of manga and pop cul­ture. The first edi­tion will take place at the Centre Inter­na­tion­al de Deau­ville from Fri­day July 21 to Sunday July 23, 2023. It's an oppor­tun­ity to dis­cov­er new tal­ent, meet renowned authors and enjoy a unique experience.
The fest­iv­al will take place in a mag­ni­fi­cent sea­side set­ting in the heart of the Côte Fleur­ie. Fest­iv­al-goers will dis­cov­er a wide range of activ­it­ies and enter­tain­ment, just like they've nev­er seen before!
It will bring togeth­er manga authors from all over the world, cos­play­ers, artists, musi­cians, gamers and many oth­er enthu­si­asts of Japan­ese cul­ture. Vis­it­ors will dis­cov­er exhib­i­tions, con­fer­ences, work­shops, games and concerts.
Deauville Manga Festival program
Enter­tain­ment
Manga­kas / Fan­zines / Book­shops: More than 30 French and
for­eign authors and car­toon­ists are expected.
Com­bat sports: demon­stra­tions of Kung Fu, Aikido, Karate,
Judo, Taek­wendo and jujitsu.
Games: Retro-gam­ing, just dance, e‑sport and video games.
Giant fig­ur­ines and themed Ins­tagram Photo Call.
Anime screen­ings will also take place.
Live manga street art.
An auc­tion of col­lect­ibles organ­ized by AGUTTES.
A large Cos­play parade in the town and on the Deauville
prom­en­ade.
Nor­mandy Awards for school­chil­dren (manga board and Cos­play categories)
Cos­play competition
The 3 days will also fea­ture shows, gam­ing, mar­tial arts, con­fer­ences, exhib­i­tions, street art, work­shops and much more! You'll also find stores selling exclus­ive products!
Setting up the Deauville Manga Festival
Pre­par­a­tions for the Deau­ville Manga Fest­iv­al begin this Wed­nes­day at the Centre Inter­na­tion­al de Deau­ville. The team will be hard at work set­ting up stands, installing dec­or­a­tions, pre­par­ing animations…
The CID teams will be mobil­ized to ensure that everything is per­fect and that vis­it­ors have an excel­lent time.
Practical information
The Deau­ville Manga Fest­iv­al will take place at the Centre Inter­na­tion­al de Deau­ville, loc­ated: 1 Rue Lucien Bar­rière, 14800 Deau­ville.
Fest­iv­al open­ing times are as follows :
Fri­day, July 21: 10am to 7pm
Sat­urday, July 22: 10am to 10pm
Sunday, July 23: 10 a.m. to 6 p.m
Book your tick­ets now to make sure you don't miss this event!
The Centre Inter­na­tion­al de Deau­ville is delighted to wel­come the Deau­ville Manga Fest­iv­al, and is look­ing for­ward to three days of fun and sharing!
Fol­low the event on our social net­works! @CID_Deauville